Club Journals 1 2 3 4

This page contains articles and some pictures from previous journals.
We publish our journal four times a year.
This article has been taken from the Spring 2003 journal

One owner from new.

The story of a 1963 Dot trials replica.

I purchased the bike when I was 17, from H&H Motorcycles at Ashington in Northumberland. I traded in my Ducati 200 Elite and paid the price of £182.00 for the bike in kit form. Part off the bike was supplied by the dealer and the remainder was collected from the Dot factory, this was to avoid purchase tax. I rode the bike in local trials for about two years. I also rode in scrambles, by converting the bike by changing the handlebars, footrests, gears, tyres and fitting a scrambles barrel with a mega

type exhaust.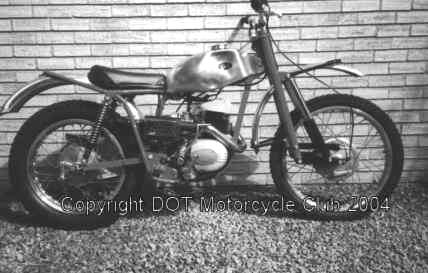 The first scramble I competed in was at Belmont near Durham. The bike was also used in the Scott Trial by my cousin. I also passed my driving test on this bike, and the bike was also used by my brother who also passed his test on it. The bike was then unused for many years and in the mid 90,s I decided to restore it. I stripped the frame and cycle parts and repainted them by hand. The wheels were rebuilt using alloy rims and new alloy mudguards, handlebars and levers etc. were fitted. The project then came to a halt for a while until as my friend who had just retired, said he would rebuild the engine and help with other technical jobs. He rebuilt the engine using the original barrel crankcases and carburettor. Other parts were used from an old Greaves which I bought for spares. The exhaust, chain guard, rear shocks and cables were purchased direct from Dot. We also fitted folding footrests, a chain tensioner and case protectors. When the bike was complete I rode it in a couple of local trials. Then in 1998 I managed to get an entry into the Scottish Pre 65 Trial, by observing the previous year. The trial was now a two day event. The first day was run in the Mamore road area. I managed to complete the day on time despite delays at sections, a lost chain split link and a damaged clutch case. Having made temporary repairs to the clutch case, I started the second day as an early starter. The route was in the Blackwater area, which included the famous pipeline section. This was a much easier day, the only problems being a damaged chain guard and a loose front wheel, a common Dot fault. I finished 113 out of 180, not bad for a near original bike.